AIR DRYER
We provide all type of Air Dryers.
Utility Engineering Company is leading provider of AIR DRYERS such as
REFRIGERATED DRYER
HEATLESS OR DESSICANT DRYER
ACTIVALES ALMINA AND SILICA
MOISTURE SEPARATOR
SINGLE TOWER DRYER 5 CFM TO 50 CFM
in Pune, Maharashtra, India.
Established in the year 2000, We UTILITY ENGINEERING COMPANY, has acquired a recommendable name for itself in the domain of Air Dryers.
AIR DRYERS
1. REFRIGERATED DRYER:-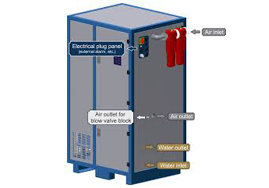 BAC refrigeration dryer is a post-processing apparatus of air compression system specially developed, researched and manufactured by BAC, according to market needs. The product offers high reliability and efficiency, with its overall enclosure structure, optimized pipeline design and high quality parts and components from the U.S. etc. Operating costs are low, while attention are paid to user-friendly designs and noise reduction. It is the best choice for your compression air system apparatus.
2. HEATLESS OR DESSICANT DRYER:-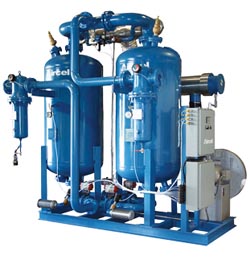 Heatless desiccant dryers house a desiccant material in two adjacent tanks, called the drying tower and regenerating tower. Moisture-laden compressed air flows into the drying tower, where it passes over and binds to the porous desiccant. Extremely dry air, with pressure dew points of –40 to –100° F, exits the dryer.
This adsorption process also generates heat, typically raising the air temperature by as much as 20° F. To remove water from the desiccant, about 15% of the dry air from the first tower is ported to the second, regenerating tower. There, the dry compressed air expands to atmospheric pressure as it travels through the desiccant and pulls water off the desiccant, aided by the higher air temperature due to the heat of adsorption. Moist air is then discharged from the system. The dryers cycle between drying and regenerating operations at regular intervals, so one tower always dries the incoming air.
3. ACTIVALES ALMINA AND SILICA:-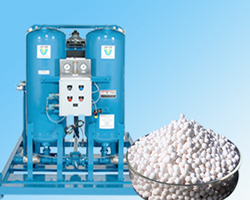 Activated alumina is manufactured from aluminium hydroxide by dehydroxylating it in a way that produces a highly porous material; this material can have a surface area significantly over 200 m²/g. The compound is used as a desiccant (to keep things dry by absorbing water from the air) and as a filter of fluoride, arsenic and selenium in drinking water. It is made of aluminium oxide (alumina; Al2O3). It has a very high surface-area-to-weight ratio, due to the many "tunnel like" pores that it has. Activated alumina in its phase composition can be represented only by metastable forms (gamma-Al2O3 etc.). Corundum (alpha-Al2O3), the only stable form of aluminum oxide, does not have such a chemically active surface and is not used as a sorbent.
4. MOISTURE SEPARATOR :-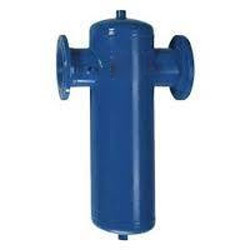 All air contains moisture in the form of water vapour. This water vapour begins to condense into condensate in the compressed air system when the air cools to saturation point. When this compressed air is used in the manufacturing plant, the moisture causes problems such as washing away of lubricants, increasing wear and tear, rust formation, corrosion etc.
The easiest and permanent solution for moisture removal problem is the provision of a vortex separator.DELTA Moisture Separators are usedto achieve moisture free air in Compressed Air /Gas applications. Removal of water from compressed air is imperative for the successful operation of pneumatic tools, instruments and machinery. Atmospheric air always contains watervapour as measured in its Relative Humidity factor. As the air is compressed the portion of water vapour in Air increases and excess water vapour converts to water droplets.
Silent Features:
Separator Vessels designed as per
latest ASME Code
99.5% removal of moisture from air
Fitted with DELTA Coalescing Element
Low Operating Pressure Drop
No replacement parts
No moving parts
Low Initial Cost & No Maint. Cost
Applications include Textiles, Steel
Industry, Medical Equipments, Nuclear
Power Plants, Cement Plants etc
5. SINGLE TOWER DRYER 5 CFM TO 50 CFM:-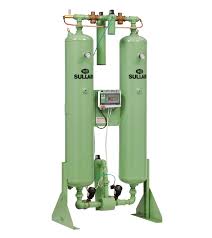 Single tower or point use dryer are available from 5 cfm to 50 cfm capacity.